Buckeye Nutrition was started as a family-owned mill by The Pocock family. It is based in Massillon, Ohio. The Pocock family started the Buckeye Cereal Company in 1910. The quality of feed by Buckeye was the company's main focus. They started as a horse feed Production Company but they eventually ventured into producing livestock feeds too.
reading annaIn 2005, an incorporated company Mars, which was also a family-owned company, purchased Buckeye Nutrition from the Pocock family, and the focus of Buckeye shifted to premium equine nutrition.
The company is now working on its products such as Gro N' Win, Cadence, and Ultimate Finish, and they are also making solution-based feeds like EQ8 Gut Health.
Buckeye Nutrition Product Range
They feature a large number of horse feeds. Buckeye Nutrition has low-starch and low-sugar levels, while high-quality fiber and fat ingredients in feeds provide energy and help keep the digestive system healthy and clean. Each feed provides a full range of vitamins, minerals, and nutrition ensuring a well-balanced diet and a good amount of energy, whatever their level of work might be.
They have a noticeably wide range of feed. They care about the customers and make sure the horse is getting high-quality and safe feed. A company that started from home is now working and making quality feeds. Buckeye Nutrition's son product line is focused on horses with special needs, performance, race, easy-keepers, seniors, and others.
Horse Feed

Buckeye Nutrition horse feed is high-quality, the best in the market for the customers. They make feeds for special purposes as well as for all horses. They have a wide variety of feeds which includes flavored treats and supplements for your choosy friends. Specially formulated and designed feeds for performance, easy doers, seniors, yearling and wean-ling, etc. are being created. They make feeds that help owners build strong horses, fulfilling special feeding requirements.
Treats and Supplements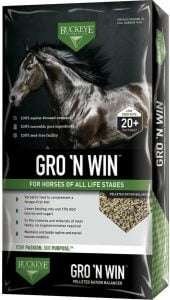 Buckeye Nutrition offers a range of high-quality supplements and treats that fulfill your horse's essential vitamin, mineral, and nutritional requirements. Their supplements and treats serve as an excellent source of vitamins and minerals while providing enjoyment for your horse. Make your horse happy with their delectable flavored treats, including Apple[1], Carrot[2], and Peppermint options.
Buckeye Nutrition takes care of your horse's supplemental needs, ensuring they receive the necessary nutrients for optimal health. By choosing Buckeye, you can contribute to the well-being of your horse, promoting their happiness and overall beauty. Treat your horse to the quality they deserve with Buckeye Nutrition.
Buckeye Nutrition Nutritional Plan
When it comes to nutrition, Buckeye is a great choice. They working on making nutritional needs the main focus. Working and formulating molasses and grain-free feeds for your horses.  They are making feeds that are high in fiber and fat, making it more nutritious for your friend to have long hours of energy.
Buckeye Nutrition Supplements
Buckeye Nutrition has a supplement line that includes Ultimate Finish SBR+ Extruded Fat Supplement, and Ultimate Recovery Extruded Performance Supplements. Gro N' Win Alfa Ration Balancer, Gro N' Win Ration Balancer. These supplements are designed scientifically to provide horses the essential nutrients along with good-quality forage. Supplemental nutrients may help solve the problem or it may optimize the horse's performance. Buckeye Nutrition provides supplements that are formulated to fulfill your horse's nutritional needs.
Buckeye Flavored Horse Treats
Three flavors that your horse will enjoy. With apple, Peppermint, and Carrot, you can treat your horse with tasty flavors. Buckeye is providing you ways to treat your horse better and give them the taste they may enjoy, for their job well done or maybe to just keep them motivated.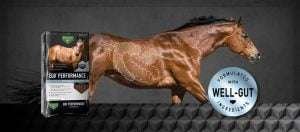 Buckeye Nutrition Price Range
Prices are always according to which feed you are choosing and how much feed your horse requires. Being the best quality feed in the industry, it may range in price according to the feed you are using for your horse. The quality and quantity decide how much feed, treatment, supplements, and forage may cost.
Other Brands Serving Horses:
Product Recall
They have worked to achieve a good position. Their products and services are always helpful to the customer. They have a track of never getting complaints from customers about their products or services. Being most considered and good service.
[1] – Nutritional Value of Apple for Horses
[2] – Nutritional Value of Apple for Horses
Conclusion
The family-owned business turned out to become a nationwide horse feed provider. With a wide range of feed, supplements, and flavored treats that keep your horse in shape, happy, and healthy and give full nutrition, and minerals vitamins. Overall a good customer service provider. Buckeye Nutrition has its ways of satisfying customers with their horse's health.
Faq's