Purina Mills is a leading brand in the animal food industry, specialising in equine feeds that cater to the needs of horses from all age groups. Purina Mills offers a wide variety of options, including performance senior and special needs, breeding and growing, at different stages of life. They also offer special products for horses with dietary needs, amino acid supplements or gastric support. All Purina Mills feed is rich in vitamins, minerals, and nutrition, and is molasses-free with added vegetable oil to promote healthy skin, coat, and muscles. The amino acids present in the feed help grow strong muscle tissues, which makes horses stronger for their hard training sessions.
Purina Mills Feed Line
Purina Mills offers a wide range of feeds that cater to horses of different ages and types. The feed line includes:
Breeding & Growing
Active Pleasure
Performance
Senior
Special Needs
Any Life Stage
Purina Mills' speciality lies in its ability to design and formulate feeds according to the horse's age and class. Enriched with vitamins, minerals, and proteins, Purina Mills offers feeds that make horses strong, give them a shiny coat and have healthy skin. The variety of feeds by Purina Mills is introduced to help your horses glow and grow stronger and more beautiful.
Purina Mills Focus
Health is the main concern for Purina Mills, so they take care to formulate soy and molasses-free feed. For performance horses, it is important to give them feed that is high in fat and amino acids to give them enough energy to fulfil their hard training requirements. These feeds are high in fat and low in starch and sugar. Low-calorie feeds are beneficial for performance horses as they lessen the risk of horses becoming obese.
Purina Mills makes sure that horses that are prone to obesity, metabolic disease, or high sugar levels receive a balanced and healthy diet.
Purina Mills Nutrition
It is important to know what your horse needs when it comes to nutrition. Purina Mills offers a good variety of feeds to meet all the needs and health conditions of your horse. Horses with special dietary needs and those prone to disease require special care. Purina Feeds provide your horse with a good intake of minerals, vitamins, fat, and fibre.
---
---
Creations for Special Needs Horses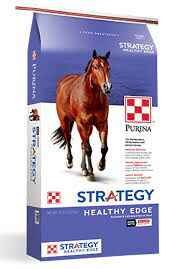 To take good care of horses, it is important to know what they need and when they need it. For this purpose, Purina Mills formulated feeds to ensure that horses with special needs are treated well with these feeds. Company offers feed and supplements for all ages and types of horses. When it comes to nutrition, Purina is unmatched. They offer feeds that are high in fibre and fat, making them more nutritious for performance horses, race horses, hard keepers, and hyperactive horses.
Animal Testing
Every feed, treat or supplement that is created and formulated is first tested and then made available for the customers. Animal cruelty is always discouraged, and to test, they only offer willing clients. Without harming any animal, they test their products and make sure that no horse or other livestock is endangered.
Purina Product Recall
Overall Purina has a good track record when it comes to feeding and recalling outstanding track record making best horse feed. It shows that they value the quality of feed more than quantity.
Conclusion
Purina is the top animal feed brand in the industry. Offering a variety of feeds, for different health and dietary needs. The supplements and treats are available by Purina Mills to help horses with special needs and health concerns. Purina also offer feeds for active pleasure, growing, senior and performance needs for all age groups. Purina Horse Feed provides us with a variety of horse and livestock feed. That is designed and formulated to give your friend healthy and golden years of life. Purina provides a variety of feed that not only feeds but fulfil all the needs that have to be fulfilled for better health and performance of your horses. The balanced diet which includes the intake of minerals, vitamins, and nutrients and the benefits of health benefits for horses of all ages and activity levels are ensured by Purina.
Faq's