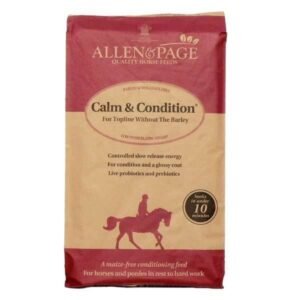 Allen & Page is a family-owned horse feed company originating from Quayside Norwich. It was established in 1936. Originally based at the mill, the company became renowned across East Anglia, for its high-quality feed and products.
Allen & Page is working constantly to innovate and improve. Allen & Page is continuously working to make horse feed healthier and environmentally friendly. They take care of matters like the hygienic making of feed and digestible feeds. Allen & Page is working for the last 20 years. They have gained accreditation from the Vegetarian Society, Soil Association, and ISO Organizations. This has set some standards for feed production. This has helped them develop and formulate high-quality feed in a safe and hygienic environment.
Allen & Page is a family business and they have invested and worked to make it the standard feed production company it is today. This family has been working to make it a national-level feed production mill for four generations. In 2009, Allen & Page received a Royal Warrant from HRH "The Prince of Wales". Allen & Page is working on finding new ways to improve and develop; depending on the experience and knowledge that they have gained from almost a century of making horse feeds and forages.
Allen & Page Horse Feed Product Range
Allen & Page features a large number of horse feeds. They have formulated a range of feeds. Each feed provides a full range of vitamins, minerals, and nutrition ensuring a well-balanced diet and a good amount of energy, whatever their level of work might be.
Fast Fiber
Veteran Light
Cool & Collected
Ride & Relax
Veteran Vitality
Calm & Condition
Power & Performance
Soothe & Gain
Weight Gain Mix
Stud & Young Stock Mix
Quiet Mix
Quiet Cube
Old Faithful's Special Blend
'L' Mix
Herbal Quiet Mix
Allen & Page has a noticeably wide variety of food and is committed to providing side high-quality and safe feed. A company that started from home is now working and making quality feeds. Allen & Page's product line is focused on providing special needs, performance horses, easy-keepers, and others too. It has feeds that are health-friendly effects on your horses. They take care of what your horse might need.
Allen & Page Horse Feed
Allen & Page horse feed is high-quality, the best in the market for the customers. They make feeds for horses with special needs. Specially formulate and design feeds that are to treat performance horses, easy doers, seniors, yearling and wean-ling, etc, and help owners build strong horses, fulfilling special feeding requirements. Allen & Page's Fast Fiber is specially designed for horses prone to laminitis.
Treats and Supplements
Supplements and treats by Allen & Page provide all nutritional requirements for optimum health for older horses. Low starch and low sugar feeds allow horses to digest easily and make energy levels high. Supplements and treats by Allen & Page are a great way to provide your horse with vitamins and minerals that your horse will enjoy. Happy and healthy horses are beautiful, to make sure, Allen & Page is a good option to treat your horse's needs.
Allen & Page Horse Feed Nutrition
When it comes to nutrition, Allen & Page is a great option. They worked hard to make sure that the feed being produced is all organic and hygienic. Working and formulating molasses and grain-free feeds for your horses.  They are making feeds that are high in fiber and fat, making them more nutritious for performance horses, hard keepers, and active horses.
Allen & Page Horse Feed Ingredients
Ingredients used by Allen & Page are barley, peas, wheat syrup, field beans, calcium, organic soya oil, salt, mint, fenugreek, etc. Organic and natural ingredients used in feeds ensure that your horse is getting enough nutrition for good muscle growth, shiny and silky hair and coat, and a stronger grip on performance.
Allen & Page feeds have different options when it comes to your horse's taste, dry feeds as well as the feeds that can be soaked or served.
Allen & Page for Special Need Horses
They take care of horses in your stable. Horses with special needs and dietary requirements have special feeds that are formulated and designed to fulfill their needs. Senior horses, performance horses, race horses, hard-keepers, easy-keepers, ponies, and horses with metabolic disease, prone to obesity, diabetes, and other issues have their feeds to deal with their conditions.
Allen & Page Horse Feed Price Range
Allen & Page is affordable feed for the horses. It may cost you money according to what feed and how much for a horse you require. Being the best quality horse feed in the industry, it may range in price according to the feed you are using for your horse. The quality and quantity decide how much a feed, treat, supplement, and forage may cost.
Allen & Page Horse Feed Product Recall
Allen & Page has worked to achieve a good position nationally and internationally. They have a track of never getting complaints from customers about their products or services. Being most considered and good service.
Conclusion
Allen & Page create feeds to fulfill all the needs of horses ranging from senior horses to show horses, easy-keepers, and all ages and types of horses. They carefully formulate low-on starch, all-natural, organic, and growth options to meet the needs of your horse. Allen & Page takes care of your horse's needs and health conditions and is working every day to make your horse happy and healthy.
Faq's